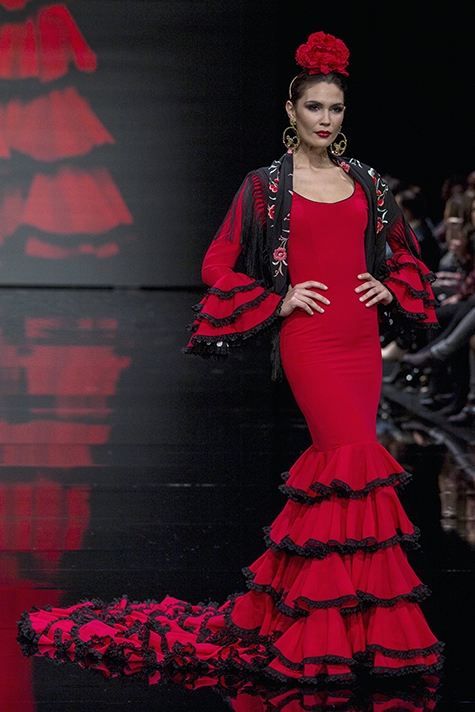 Fabiola 1987, also at SIMOF
[social_buttons facebook="true" twitter="true" google_plus="true" pinterest="true"]
Together with  Mof&Art (Asociación de Moda Flamenca Artesana – Association of Artesan Flamenco Fashion) to which we belong, on Saturday 3 February at five in the afternoon, Fabiola 1987 participated in the International Showroom of Flamenco Fashion or  SIMOF.
The event was remarkable due to the variety of designs from twelve flamenco dress brands and two accessory brands, that stand out for their experience and artisan way of working.
The SIMOF runway is impressive, magnificent and for us meant a new challenge. Diversity of stages can be very interesting and the ability to offer your product to a different audience, that isn't your usual client, is a very appetising challenge. Its about moving into new markets.
As a Fabiola 1987 designer I am proud to show my flamenco dresses, made one by one, full of details representative of my brand, to the biggest possible number of possible clients.
In the show we specially used ivory, black and red. Fabiola 1987 presented a dress in ivory with black spots and an underskirt in a patterned red fabric, a red dress with a black spotted underskirt and a "bata de cola" (dress with a train) in red and black. It was an impacting vision with which to close the show.
The exciting world of flamenco fashion
Apart from the show, the organisers invited us to have our own stand with MOf&Art at the EGO show. We experienced first-hand the excitement of flamenco fashion, watching on the runway young firms and some not so young firms with designs by the Doble Erre school. The atmosphere was electric.
As a designer of flamenco fashion, I like to know what's new in this world; us designers should not cut ourselves off from the rest thinking that our work is always the best, but should know what everyone else is doing in order to be able to judge and to choose what we want based on knowledge. You can never know too much.
With an open mind and 30 years of well channelled experience I go about the sale of my 2018 collection. Go for it!